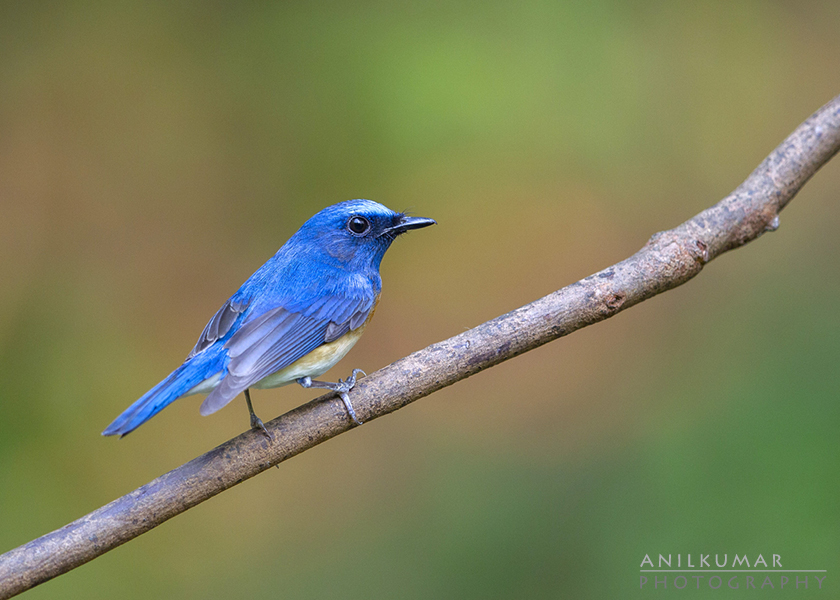 Blue-throated blue flycatcher
©Anilkumar All Rights Reserved.Canon EOS 1D Mark IV, 500mm f 4 L IS II, ISO 800 f/4 @ 1/500
I find birds and their behavior absolutely fascinating. Photographing birds is especially exciting because it demands quick reflexes as the action unfolds in front of you. I love photographing birds in their natural habitat. Thattekadu bird sanctuary is located in Kerala, 48 km from Kochi International Airport, and the best place to photograph small birds, especially the summer season. These small birds are very sensitive to small movements and difficult to approach them in open habitat. The best method is to make use of a hide, where we can sit inside with our camera equipment and photograph without disturbing the birds. A typical bird hide resembles a garden shed with small openings or windows built into at least one side to enable observation.
We carefully placed the hide near a small water hole where the birds normally come to drink water. We positioned the hide in such a way that the perches where the birds come and sit close to the hide and away from the background. This makes the background become out of focus in the final image.
The camera was set to aperture priority mode and the ISO was set to 800 to get a shutter speed of 1/500@f4, due to the low light conditions. I like to use a gimbal head on my tripod whenever I am photographing birds. Leaving the gimbal head controls slightly loose enables me to swing my lens around quickly.
We were waiting inside the hide and looking for the birds to come and sit on the perches. This little bluebird landed suddenly and sat on a perch. I quickly framed and focused the little bird and waited to get the eye contact before capturing the image. The bird disappeared within 10 seconds. I used fast shutter speed to freeze any movement of the bird or the lens. I end up shooting almost wide open most of the time. Critical focus is more important because there is a limited depth of field to cover any errors.